The Gold Coast is a glamorous destination for many Australians. The beachside location has bred a lifestyle that is geared towards the water, and many who have come have decided not to leave. This is one of the fastest-growing cities in the country, and once you see the lifestyle, you'll understand why.
That is why we, at All Quality Splashbacks, have made inroads in to this city. We have seen the fast pace of development here, and we know that those who come here to live are seeking a new life – perhaps, a more glamorous one than they left behind.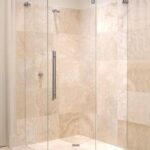 With this tenet behind us, we knew that the Gold Coast was unprepared to settle for an average bathroom. We knew that the folks moving to this iconic place are seeking something more befitting their new landscape, and we felt that our selection of frameless shower screens could suit this motif very nicely.
Our lineup of framed and frameless shower screens add that touch of class and elegance to your bathroom. They allow the room to breathe by encouraging the flow of natural light in to all corners of the room, making it seem brighter and feeling larger, overall. And of course, they are all installed by our crack team, for a sure fit and tight, seamless seals.
For the finest and most elegant solution to your shower screen needs in Gold Coast, you'll do no better than All Quality Splashbacks. We have you covered!