So what can you expect when you decide to renovate your kitchen and install a new glass splash back?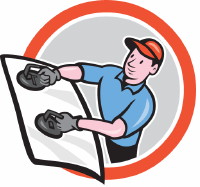 Firstly you need accurate advice as there are many options. We first start with an assessment of the existing kitchen splashback – is it tile, glass or stone? Do we have to remove the old splashback or can we simply go over the top? (we can tell you whats involved here).
Once an accurate measure and quote has been done and you have selected your colours (again, we can help here of course!) the glass needs to be cut to an exacting size – attention to detail in all aspects here are most important, especially in measuring and accurately cutting the glass sheets to make sure they fit perfectly into your kitchen. This step also includes cutting out the GPO hole for power points very precisely and accurately.
The glass needs to be very high quality and for our clients we insist on quality Australian made glass, heat treated and toughened to Australian standards. All our coloured glass splashbacks are custom made and colour matched to your exact requirements. The glass is painted with a two pack urethane which is baked on for toughness. We can help you pick and match the correct colour or you can choose any colour from the Dulux Colour Range and let us know the colour you like.
The main issues when installing glass splashbacks revolve around ensuring accurate measurements and design because once the glass is toughened it cannot be altered at all. There are some limitations to what can and can't be achieved in your kitchen and stringent standards that need to be adhered to depending on the design and/or shape of your kitchen, so make sure you get the right advice before proceeding.
Get Accurate Advice On Your Kitchen Renovation, Gold Coast and Brisbane Qld
Call Us on 07 5603 7700