The shower is more than just a morning rite of passage. It is a place of soothing relaxation in the warm water, a spot to cool down from the heat of the day or a few hours in the sun. And we spend more time inside of it than we might think – over sixty hours annually are spent amongst the confines of our shower.
We want it, then, to be a place of calm. And there are few better accessories that would complement your shower than a top-quality frameless shower screen from All Quality Splashbacks. These glass shower screens allow your shower to be the place of relaxation that you have always wanted it to be.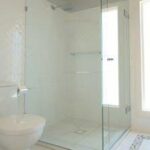 The biggest advantage of a frameless shower screen is the feeling and sense of space that it offers your bathroom. Your Gold Coast shower screen is totally transparent, offering you the feeling that the room has somehow been enlarged, and not only from the inside of the shower – the enlarged view remains the same from outside.
Frameless shower screens offer your Gold Coast bathroom another level of class and elegance, even outside their practical good looks. Our expert installation teams are able to assure you of a top-quality screen, which will never leak through its seals.
If you're after something to set your bathroom apart from the rest, while offering a most enjoyable atmosphere in which to find yourself each day, you can do no better than a frameless shower screen from All Quality Splashbacks. Check out our lineup!