From table tops and shelving, to shower walls and balustrades, glass screens can be used almost anywhere in a home renovation because of their utility and stunning look. For example, splashbacks are able to transform any kitchen into a new, modern-looking place for all members of the family to enjoy. Moreover, they can be tailored after the customer's needs and wishes, as they come in a variety of colours, patterns and designs and are made out of a number of materials, each with their own advantages and benefits.
A kitchen splashback can improve the look of a room
Splashbacks can be used in numerous ways to improve the look of the area and to protect it as well from humidity, spills and grease. They can be installed on the walls, instead of standard ceramic tiles, ensuring a more modern look that is both beautiful and practical. The walls, especially along the stove, will be much easier to keep clean and hygienic, and with little effort, all the dirt and oil will come off.
For the same purposes of protecting the kitchen furniture, splashbacks can be also used on top of the kitchen cabinets and on cupboards. Acrylic splashbacks – which are lightweight, can be used for almost any surface without worrying that the particular articles of furniture will become too heavy. A quality Kitchen splashback will be extremely easy to clean after cooking and will offer a glossy, luxurious feel to the entire room.
Mirror splashbacks can also improve a bathroom renovation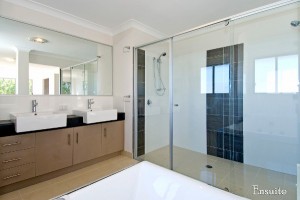 When it comes to renovating the bathroom, using a mirror splash back is a viable architectural solution that comes to mind. The slippery surface will provide protection to the walls which will be kept moisture-free at all times, but it will also serve as a large mirror. Moreover, the reflective surface will open up smaller bathrooms and create the illusion that the space is much larger.
Other kinds of splashbacks, such as frosted glass, acrylic or tiles can be used in bathrooms as well, to serve as a shower-screen, because water will bounce right off these slippery surfaces. In addition, the customer can opt for various colourful patterns, designs and even images which can be very pleasing to see in a place where many people like to relax and pamper themselves.
Due to the nature of the materials they are made of, water won't stain the splashbacks installed in a bathroom even if they are not cleaned regularly. This offers a lot of flexibility for those with busy schedules.
How Glass Screens can improve other parts of a home
One of the most elegant and contemporary balustrade solutions is using a glass screen instead of the traditional wooden or metallic grill balustrade. Either inside or outside, it creates a truly unique and modern look for the entire home.
Glass screens can be also used to separate certain areas of a room such as the stool from the sink and shower areas, to divide an open kitchen from the dining or living room or even to surround a gardening area. Furthermore, glass screens are often used to border pools and at times, mirror splashbacks found in typical Gold Coast houses are used inside the pool to produce unique visual effects.
Why not call us today for Kitchen or Bathroom Renovation Ideas
Gold Coast Brisbane – 07 5603 7700